Thursday, November 19, 2020
Category: Students and Alumni
From Childhood Dream to Career Reality
By Hannah Berger '21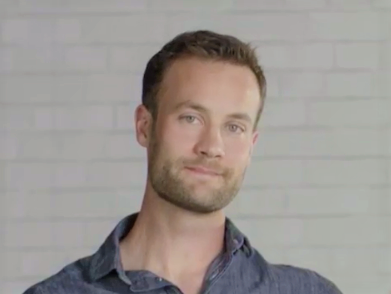 Who would have thought that playing "office" as a child would lead to a career with one of the world's leading apparel companies? Tim Murphy '05, director of business operations & strategy at Levi Strauss & Co., pursued his childhood dream of intertwining his passions with the world of business.
During Murphy's time at Messiah, he studied business administration while also interning with Delta Development Group, a local firm that later offered him a full-time, post-graduation position. Around the same time, Murphy received a job offer as a management trainee with Cintas Corporation in York, Pennsylvania. After careful deliberation, he decided to accept the second offer because he appreciated the breadth of experience that its four, six-month rotations across office, plant, service and sales roles provided.
Murphy says his experiences in the office and plant rotations were invaluable, but he quickly realized that he had a keen interest in learning more about finance and gaining experience internationally. Eventually, he started the job search again and accepted an entry-level position in internal audit with The Hershey Company. While progressing within the audit function, Murphy learned a great deal about finance, accounting and business operations. He also obtained work experience in various international locations. After reflecting on his time at Hershey, Murphy says, "As I closed in on five years, I sensed it was time to make a change and broaden my skillset." Although he originally planned on attending an MBA program, he instead pursued a rare opportunity to join Hershey's corporate strategy team.
For four years, Murphy dedicated time within various strategy groups, eventually supporting North American President and current CEO of Hershey, Michele Buck. Several years later, Murphy and his family made a move to San Francisco, California, where he landed a position leading strategy for the Dockers brand, owned by Levi Strauss & Company. This position laid the foundation for his promotion to his current role as director of business operations & strategy.
After years of hard work gaining experience in a diverse array of positions, Murphy felt well-equipped for his new role in California. "It's really my prior experience that groomed me for this role—having spent the time to intimately understand business operations within audit, while developing my strategic and analytical skillsets within strategy," he said. "My current role is a unique intersection of these two disciplines." Currently, Murphy oversees the broad set of operational processes for the Dockers brand, including go-to-market processes, digital transformation and management of special projects.
Additionally, Murphy supports the brand's strategic work—whether that be strategic and annual planning, market insights or transformative project work. Within the realm of his responsibilities, one of Murphy's favorite parts of his job includes the breadth of the problems and opportunities that he encounters on a daily basis. He also enjoys using data and analytics to reach novel solutions for the business. Additionally, he loves making operational improvements that positively impact his colleagues' work. Outside of work, Murphy and his family share a mutual desire to experience all that California has to offer!
Why Messiah?
Regarding the decision to pursue a Christian education, Murphy says, "Messiah, and my Christian education in particular, helped to instill in me a balanced outlook on how to approach people and problems—the two are often intertwined—both personally and professionally. Messiah also strengthened my resolve to act ethically and morally in the workplace, which, over time, proves to not only be the right thing to do, but also becomes a legitimate advantage or differentiator." He says his experience at Messiah gave him the educational framework and experience that, combined with his own effort and perseverance, lead to a successful career.
Through his success, Murphy wants to share professional tips and words of encouragement to current undergraduate students. First, he encourages students to consider what they are passionate about—not what they think they should be passionate about. "Business, in particular, provides the opportunity to be connected to your passion from any number of angles, whether it be an industry, a particular role, a product or cause," he adds. He also encourages students to work hard and conscientiously make connections to those particular passions as success and fulfillment will come much more naturally in the end. Through years of hard work and perseverance, Murphy transformed his childhood dream of playing "office" into the real deal!
Learn more about studying business administration at Messiah University.