Wednesday, November 30, 2022
Category: Partnerships
Messiah University announces new K-12 collaborations with Christian School of York and Logos Academy
Messiah University (Messiah) today announced the regional expansion of its Pathway Partners Program into York County, Pennsylvania, with new collaborations with Christian School of York and Logos Academy.
About the Pathway Partners Program
Launched by Messiah in October, the Pathway Partners Program is a new K-12 educational partnership designed to create mutually beneficial lifelong learning opportunities between Messiah and the students, families and employees of its partner schools. While Messiah develops each partnership to address the unique needs of the partner school, agreements typically include a tuition discount, dual enrollment opportunities, continuing education and graduate programming for partner employees, traditional undergraduate enrollment scholarships, special campus events and facility access, and summer camp programming for partner students.
"These newly formed partnerships formalize the long-standing relationships that we have had with these two organizations located right in our backyard," said Rob Pepper, associate provost for graduate and professional studies and university partnerships at Messiah. "We are looking forward to many additional years of collaboration. We hope to increase the opportunities for Messiah students to work alongside leaders and teachers at Christian School of York and Logos Academy as they gain valuable experiential opportunities. We are also pleased to intentionally work to make a Christ-centered education more affordable at the undergraduate and graduate level for CSY and Logos graduates, parents, teachers and administrators."
About Christian School of York
Since 1956, Christian School of York has been equipping students through academic rigor and uncompromising Biblical truth to impact the world for Christ. The school's 12-acre campus provides a high-quality, Christ-centered learning environment for PK2-12th-grade children to seek academic excellence and find their true identity in Christ.
"We are excited to announce this new partnership with Messiah University," said Superintendent/CEO Andy Bell. "We believe that CSY and Messiah share a common mission to educate and prepare young people to make an impact in the world in the name of Jesus. This new partnership provides both our students and staff tremendous opportunities to further their education at one of the top Christian liberal arts universities in the United States."
About Logos Academy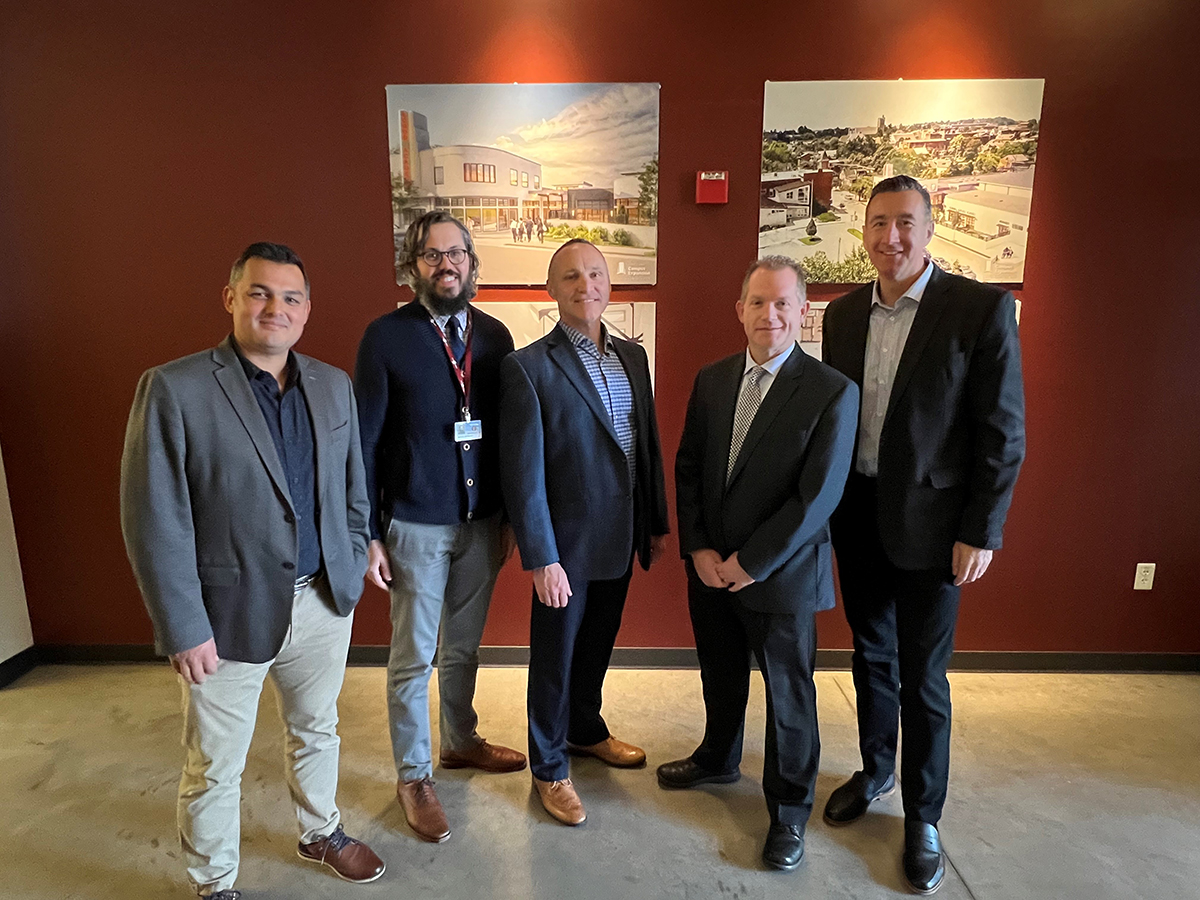 (left to right) Otto Monroy, president, Logos Academy; Michael Hornbaker, academic dean and high school principal, Logos Academy; John Chopka, vice president for enrollment management, Messiah University; Rob Pepper, associate provost for graduate and professional studies and university partnerships, Messiah University; Aaron Anderson, CEO, Logos Academy.
Logos Academy is a private K-12 school, in York, Pa., accredited by the Middle States Association and registered with the Pennsylvania Department of Education. Since its founding in 1998, Logos Academy has built a tradition of providing an excellent Christ-centered education that is affordable for all families in York, reserving two-thirds of classroom seats for students who live below or near the federal poverty line. In the 2019-20 academic year, the full per-student tuition rate was $9,750, but due to the generosity of the local community, the average student paid $1,985 to attend Logos Academy. Last year, 99% of Logos Academy students received tuition assistance.
"We are excited to enter into this strategic partnership with Messiah University and are confident that it will increase the impact of both of our organizations," said President Otto Monroy. "During our students' K-12 years, our faculty joins with family members and donors to support our young people toward their full potential. Messiah now is able to bring its considerable organizational capacity to join that fabric of support helping our students prosper as young people of faith and purpose."
About Messiah University
Founded in 1909 and located near Harrisburg, Pennsylvania, Messiah University is a nationally ranked, private Christian university of the liberal and applied arts and sciences that enrolls nearly 3,300 undergraduate, adult degree program and graduate students. The Pathway Partners Program is facilitated through the Office of University Partnerships at Messiah University.
Cover image (found pictured on messiah.edu/news):
(back row, left to right) Andrew Bell, CEO/Superintendent, Christian School of York (CSY); Greg Hortman, high school principal, CSY; Alyssa Allen, chief financial officer, CSY. (front row, left to right) John Chopka, vice president for enrollment management, Messiah University; Rob Pepper, associate provost for graduate and professional studies and university partnerships, Messiah University; Megan Zelinske, guidance counselor, CSY