In memory of President D. Ray Hostetter
D. Ray Hostetter, Messiah's sixth president, passed away on February 12, 2016.
Hostetter came from a long line of dedicated Messiah faculty and administrators. His grandfather and father both served as presidents, and his mother was both a student and teacher at Messiah.
He caught Messiah fever early, attending the school as a boy. After graduation, he continued his education, receiving a B.A. in History from Greenville College in Illinois and an M.A. from Pennsylvania State University.
After obtaining his master's degree, Hostetter began his journey as an authoritative figure in higher education at Tabor College in Kansas, teaching and coaching athletic teams.
He eventually left Tabor and returned to Messiah. In the years before serving as president, he taught history and physical education classes. Some years later, Hostetter became the director of development. He became Messiah College's sixth president in 1964.
In 1965, he returned to school and earned a doctorate in higher education administration from Columbia University in New York. During his studies, the wheels in his mind turned as he envisioned the great potential Messiah could reach.
Notable accomplishments
As a man who would not settle for mediocrity, Hostetter strived for excellence in all areas. This mindset acted as a platform from which the College leaped into a period of unprecedented success. His presidency would come to mark a time of great growth and progress for Messiah College.
Among Hostetter's notable accomplishments were some of the following:
Erected many new facilities:

Hess Residence Hall
Sollenberger Residence Hall
Kline Hall of Science
Eisenhower Campus Center
Miller Residence Hall
Climenhaga Fine Arts Center
Sollenberger Sports Center
Fry Apartments
Main stacks expansion of Murray Library

Added professional counseling and career services
Expanded assets by extending Messiah's land to over 300 acres
Organized the merger between Messiah and Upland (formerly Beulah) College, which brought additional financial assistance and support from the California Brethren in Christ churches. This merger made Messiah the only institution of higher education of the Brethren in Christ tradition.
Helped to gain Messiah's complete regional accreditation
Worked to form a partnership with Temple University

As a result, Messiah's Philadelphia Campus opened in 1968
This was the first cooperation of its kind between a private religious college and a public institution in the United States

Entered an educational partnership with Daystar Institute located in Nairobi, Kenya
Enhanced Messiah's athletic program by adding baseball, wrestling, field hockey, women's basketball, volleyball and co-ed track teams to the sports roster
Implemented January Term (known as J-Term), an intensive three-week portion of the spring semester
During his presidency, Hostetter's dedication to the excellence and the Christian faith seemed to have an impact on the faculty and students as well. As a result, many other advancements occurred on campus throughout Hostetter's 30-year administration.
Students formed the Inner City Committee, a group designed to engage in Harrisburg ministry. This was accomplished via a variety of outlets including donating blood to hemophiliacs, building houses for the homeless and working with ex-convicts.
Special Olympics were added to Messiah's service agenda
Cable television was installed on campus
Spring break trips were formulated and successfully carried out
WVMM (the Messiah radio station) was created and officially begins its broadcast
It goes without saying that Messiah would be a very different institution without the commitment and enthusiasm of President D. Ray Hostetter. His influence on this community is a long-lasting testament to shared faith, bold vision, and the enduring promise that captures the essence of Messiah College.
Memorial Service for President Hostetter
April 16, 2016 at Messiah College
Read Details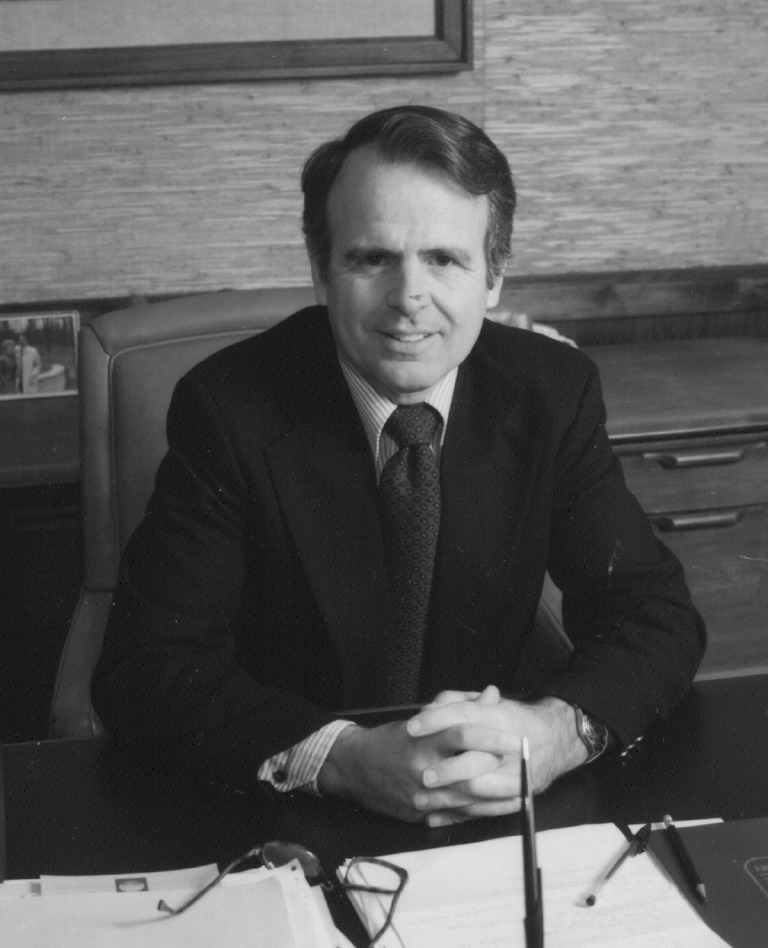 PHOTO GALLERY
View photos of D. Ray Hostetter