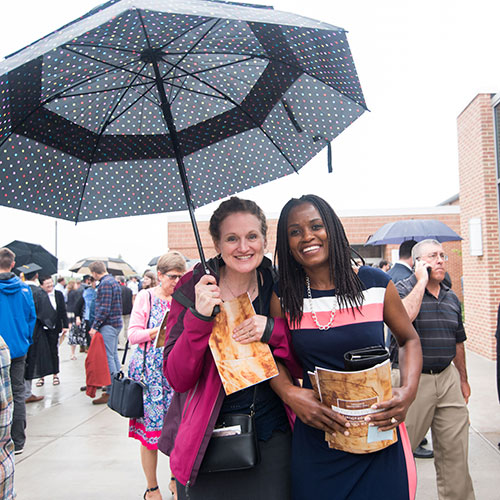 If there is inclement weather the day of Commencement:
A decision regarding any changes to the schedule will be made by 6 a.m. on Commencement day. Announcements regarding the schedule will be posted on Messiah's website at www.messiah.edu.
The Commencement ceremony is planned as an outdoor activity, and the University's strong preference is to hold the ceremony outside at the scheduled time. As such, in the case of passing or mildly inclement weather, the ceremony will proceed as scheduled. (There is no covered seating area, however, so please dress accordingly for conditions.)
If the inclement weather is persistent or severe, an alternative schedule according to one of the below options will be followed:
OPTION A:
If the inclement weather is severe, but of a passing nature, the University will postpone the ceremony until 1 p.m. At that time, the ceremony will be held at the outdoor Starry Athletic Complex as planned. Tickets are not required for this ceremony option.
OPTION B:
If the inclement weather is severe and is NOT of a passing nature, the University will hold two abbreviated indoor ceremonies, one at 10 a.m. and the other at 1 p.m., both in the Brubaker Auditorium of the Eisenhower Campus Center. Graduates are assigned a ceremony time based on which academic school and department they are graduating from (see below). In the event this option is enacted, seating is limited inside the auditorium, and guests will be required to have tickets for entry to the indoor ceremonies.
10 a.m. ceremony
All graduates from the School of Science, Engineering and Health:
Biological Sciences
Chemistry and Biochemistry
Computing, Mathematics and Physics
Engineering
Health, Nutrition and Exercise Science
Nursing
Sustainability Studies
Graduates from the following departments in the School of Arts, Culture and Society:
Art and Design
Biblical, Religious and Philosophical Studies
1 p.m. ceremony
Graduates from the following departments in the School of Arts, Culture and Society:
Business
Communication
Education
History, Politics and International Relations
Human Development and Family Science
Language, Literature and Writing
Music
Peace and Conflict Studies
Psychology, Criminal Justice and Sociology
Social Work
Theatre and Dance