ACADEMIC AND TRANSITIONAL COACHING
Academic and Transitional Coaching is a working partnership between an academic coach and student that focuses on the process of learning. Throughout this process, students will examine their learning styles, working habits, and current difficulties or barriers to success. This team (coach and student) will then work together to create and put in place more effective strategies to enable student success. The aim is to heighten awareness of what it takes to achieve academic/socal success and anchor this with new strategies, a supportive relationship, and personal accountability.
ACADEMIC AND TRANSITIONAL COACH PROCESSES
It is the goal of all academic coaches to help the student "see" the different learning processes involved by first helping the student to assess his or her own study routine, then by modeling new strategies, and finally by encouraging the student to put the new skills into practice immediately. Through ongoing discussion, demonstration, modeling and practice students acquire knowledge situationally, grounding it in authentic activities day by day. Because we encourage students to try the new skills and then return for follow up sessions, the process involves real life problem solving and social interaction, not just theoretical and declarative information. Eventually, the student builds an arsenal of personal study skills that he or she knows is effective, and learns how to choose which skill to use for a particular course of study.
A first step for students to gain an understanding or awareness of their current approaches to learning. The student and Coach together identify goals that the student wants to achieve, and then come to an agreement about how much time and effort the students wants to dedicate in order to achieve these goals. The coach and student together assess the student's notetaking skills, reading habits, and study routines in order to identify areas of need. Generally, students need to develop global before local skills and gradually increase the complexity and diversity of those skills. For example, inexperienced students might need to consider their weekly scheduled first and plan out regular study time before they study the final points of APA.
When professors and students hand out advice to today's stressed and needy college students, anecdotal experiences of "this worked for me years ago" usually do not fit the bill. Academic coaches recognize the uniqueness of each individual and will formulate strategies specific to the students they serve. It is recognized that a one size fits all approach is not appropriate and each student needs to build upon their individual strengths. Through understanding those strengths, appropriate strategies can be formed and applied.
For strategy application, academic coaches aim to further build the students tool kit by discussing study skills topics in the context of the student's own life situations and course content. Modeling, scaffolding, coaching, and providing key feedback are essential elements of our program. This structure allows students to transfer the theoretical discussion in the office into genuine application by practicing the strategies throughout the week and bringing the results for a follow-up conference. Discussing the results at subsequent sessions helps students to develop self-monitoring skills.
Through the practice of encouraging students to keep regular weekly or biweekly appointments, students continually practice new skills and discuss strategies that are and are not helpful. Through enough practice, students typically are prepared to work independently towards their goals as they progress towards their degree.
Throughout the entire process of academic coaching, coaches encourage challenge and support the student. When appropriate, coaches refer students to other resources for help with issues such as learning disabilities, financial aid, and counseling needs, which are sometimes the underlying issues of problems such as test anxiety and poor time management,
Messiah is committed to helping students academically succeed. As a result, academic coaching services will continue online.
HOW TO SIGN UP FOR ACADEMIC AND TRANSITIONAL COACHING SESSIONS?
Coaching sessions can be scheduled via Falcon Link using the Academic Coaching tab. Or click on the link to schedule the appointment directly https://apexapps.messiah.edu/apex/f?p=450:45:8264842228518::NO:::. Once in the application, select your desired coach at the top of the screen. Then scroll through the available time slots to see what works best with your schedule. Once you find a time, schedule your session at the bottom of the page. Please note that your meeting can recur weekly.
Next, instead of meeting with your coach in person, you will meet with him or her virtually through Zoom. To do that, click on the below url link associated with your coach at the time your meeting is scheduled to start. You will then be directed to a waiting room. When your coach is available (he or she may be finishing up a session), your coaching session will begin. If you are disconnected from your session at any point, please use the same link to reconnect with your tutor. When using Zoom for the first time, it is recommended that you join the session 5 minutes early in case there is software that needs to be downloaded
Amy Slody https://messiah.zoom.us/j/3162224489
use password "meeting"
Natalie Saccary https://messiah.zoom.us/j/9535877071#success
use password "075679"
Deana Baddorf https://messiah.zoom.us/j/662173816
Lydia Watkins https://messiah.zoom.us/j/6721015821#success
Contact us
If you have any questions about our program or prefer to schedule by phone, please contact Joy Ellis via email jellis@messiah.edu.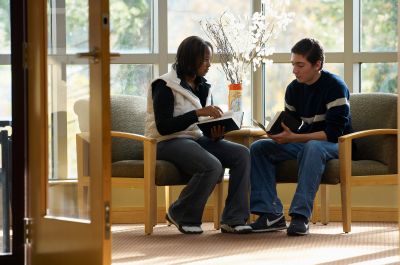 What our students have to say...
"Academic Coaching has helped with the transition from high school level work to college level work. I have seen my writing and time management skills improve significantly over the course of this year. These improvements have given me the opportunity to be more confident in my class assignments and in my every day routines. I am so glad I had the privilege of having an academic coach that saw potential in me and who was willing to invest in helping succeed in college!" - First-year student