Community in Messiah University's Social Work Department
Within the major, students develop a closely-knit community through shared experiences and taking many of the same classes. Students can also get involved in groups like Messiah's Social Work Club and Phi Alpha Honor Society. As the social work community, we strive to extend our influence to the Messiah community, the Grantham community, the national community, and even international community.
Social Work Club
"The Social Work Club provides many opportunities for the leadership team to create a unique club experience. As president this year, my goal has been to assist my officer team in creating club programs that fit their vision for the club and the Department at large. I have enjoyed watching programs evolve over the years to fit the new visions of the officer team as a whole. I think I speak for the whole officer team when I say that we hope students feel connected to the club and to each other through our events."

Lauren Mast, '20
The Social Work Club is the Department club for the Social Work Program. The club's goal is to foster connection within the Department through three main programs and its own monthly events. The three programs that are conducted by the Social Work Club are the peer mentor program, the prayer shawl ministry, and the prayer chaplain events. Overall, the Social Work Club strives to promote self-awareness, self-care, and community for the Social Work Department at large .
| Peer Mentor Program | Prayer Shawl Ministry | Prayer Chaplin Events |
| --- | --- | --- |
| connecting underclassmen with upperclassmen in an intentional mentoring relationship to provide guidance in the department and in the college transition to underclassmen and leadership opportunities to the upperclassmen | fostering connections with community members by knitting, crocheting, or looming prayer shawls. As the Department is made aware of community members suffering a loss, tragedy, or other hardship, social work students pray over the shawls and they are distributed to the family or community member | fostering faith within the Department by holding prayer events and bible study for other social work students and faculty |
2022-2023 Social Work Club Officers:
President: Lucas Burkhart, Vice President: Jessica China, Peer Mentor Coordinator: Rachel Eaves and Darren Miller, Prayer Chaplains: Amber High and Reagan Can Rees, Cultural Competency Liasons: Attie Hart and Judith Kyei-Pok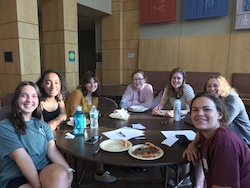 Phi-Alpha Social Work Honor Society
"As Phi Alpha President, I have seen each member take steps toward intentionally focusing on professional development. We have invested in the personal interests of other students to be able to enhance the club's activities, such as monthly meetings and a semester service project. Each event fosters community between students and facilitates educational opportunities to enhance professionalism."

Brooke Aulthouse, '20
Phi Alpha is the official Lambda Psi Chapter of the National Honor Society of Social Work. Phi Alpha rewards students for their academic excellence and provides an opportunity for furthered professional development through the club's events and service projects. Each month the club holds an event which provides an opportunity for social work students of all classes to gather and develop their professional skills. Once a semester, the members of Phi Alpha participate in a service project to demonstrate their adherence to the core values that are described in the NASW Code of Ethics. Being a part of Phi Alpha is meant to inspire growth toward becoming a professional social worker in the final years of a student's formal education.
2022-2023 Phi Alpha Officers:
President: Jessica China, Vice President: Rachel Eaves, Secretary: Reagan Van Rees, Treasurer: ZiYan Horne, Historian: Celeste Reed
Membership Information:
Membership is by invitation only. To be invited into the Phi Alpha Honor Society at Messiah University, a social work major must achieve sophomore status and have an overall GPA of 3.0 and a 3.5 major GPA. There is a membership fee of $10. After being inducted in Phi Alpha, students are expected to maintain academic excellence, along with attending member meetings, monthly events, and a minimum of one service project a year.
Service Projects:
The Phi Alpha National Honors Society is committed to serving to others. Our chapter has been involved in multiple service opportunities. Each year we host two service projects, one in the fall and one in the spring. Members are required to attend one service project each year.
Past Service Projects:
Spring 2019: Special Olympics Awareness/Training: With the coordination of social work student, Andrea Timbone, the members of Phi Alpha heard a speaker tell of his experiences with individuals with special needs. Afterward, Phi Alpha officers hosted a brief discussion on disability.
Fall 2019: Bethesda Mission Community Center: Filling bags with Thanksgiving meal items: Members of Phi Alpha helped to fill over 250 bags with canned goods and boxed stuffing and potatoes for families to enjoy. Other members made banners that would decorate the center during their Thanksgiving dinner.
Fall 2018: Operation Warm Hearts - Knitting Night: Emily, an alumni of the Messiah College Social Work Department, started Operation Warm Hearts as her communities project. She uses looms to create hats and scarves for individuals experiencing homelessness.
Current students who want to get involved or need contact information can find these resources on our website, under Student Involvement Opportunities.