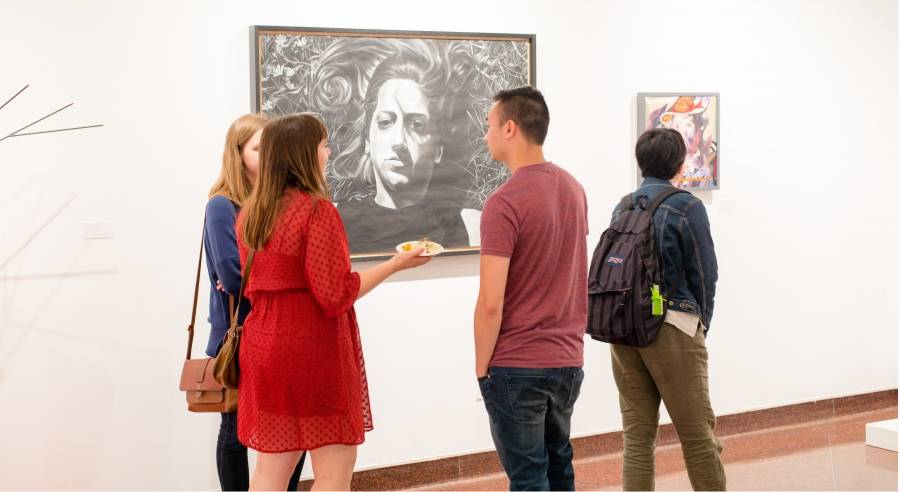 Gallery History
The very first academic dean at Messiah Bible School (now known as Messiah University), Asa Climenhaga, taught the first art classes in 1911. An avid oil painter and art enthusiast, Asa Climenhaga and his wife Anna, built the Climenhaga Homestead next to Messiah. In 1968, the Climenhaga's deeded the house and a bulk of paintings to the college. With their overflowing passion for art and their generous donations, the college decided to memorialize the Climenhagas by building the Climenhaga Fine Arts Center, now known as the Climenhaga Building.
The Climenhaga Fine Arts Center opened in 1981, two years before Asa Climenhaga's death, and began displaying art exhibitions in the new gallery space which was named for its donor, M. Louise Aughinbaugh.
M. Lousie Aughinbaugh was a good friend of D. Ray Hostetter's wife, Audrey Hostetter. D. Ray Hostetter was the College's president from 1964-1994. M. Louise Aughinbaugh was aware that there was no place to show and exhibit student work, so Hostetter gave her a proposal to help build the gallery and then name it after her.
The mission of the M. Louise Aughinbaugh Gallery was to present professional artist's work for the community benefit and also the education of the few art majors Messiah had at that time. In addition to the Aughinbaugh Gallery in the Climenhaga building, Messiah has multiple designated areas throughout the top and bottom levels of the Calvin and Janet High Center for Worship and Performing Arts, which opened in 2013.
Messiah's permanent art collection consists of more than 1,400 sculptures, illustrations, prints, paintings, and more, that are continuously rotated around Messiah's campus.