Energy efficiency
Carbon reduction
Messiah University has removed tons of carbon from the atmosphere since 2008 – reducing our contribution to global climate change:
38% reduction in CO2 emissions since 2008
19,706 Metric Tons of CO2 in 2008
12,205.58 metric tons of CO2 in 2017
Electric vehicle charging station
Since its installation in October 2017, Messiah's EV charging station has:
Reduced 127 kilograms of greenhouse gas emissions by supporting electric vehicles (the equivalent of planting 3 trees).
Contributed 1,060 miles of fossil fuel-free driving
Local food sourcing
Dining Services receives 95% of its products from vendors located within 200 miles of Messiah's campus resulting in energy and fossil fuel savings.
Solar energy
More than 100 solar panels on the student residences that comprise the North (residence hall) Complex generate enough energy to heat water for all three buildings, making this the fourth largest solar thermal system in the country. Messiah's energy savings from this project is equivalent to planting 3,600 trees each year.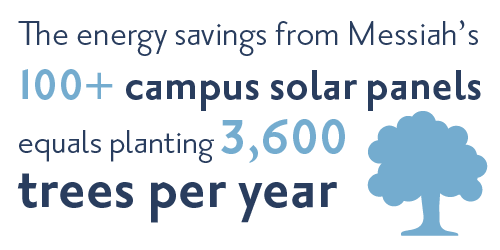 Combined Heat, Cooling and Power Plant
Constructed in 2016, the University's new combined cooling, heat and power plant (CCHP) procides year-round electric power, heat and cooling generated from a single fuel source–natural gas. Messiah's recent conversion to natural gas and the use of the CCHP, is estimated to provide emission reductions equivalent to removing 1,354 passenger vehicles from the road.