Waste reduction
Recycling
Messiah University has had a robust recycling program since the early 1980s when two students launched the initiative in response to a class project. Now Messiah actively recycles cans, glass, paper, cardboard, metals, electronics, rechargeable batteries and cellphones across all its campus venues.
Composting
Student volunteers retrieve upward of 1,500 pounds of organic waste weekly from each Messiah eatery for an on-campus compost pile. The nutrient-rich soil produced from the waste is then used on the Grantham Community Garden and in various flowerbeds around campus.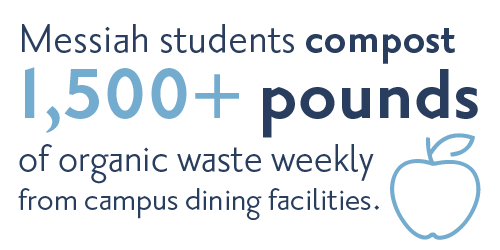 Community donations
At the end of each semester, Mennonite Central Committee parks a tractor trailer on campus and accepts students' usable unwanted items, diverting a significant amount of trash from landfills while helping people in need.