Internships are experiential learning options at Messiah University that are done for academic credit.  Each of these opportunities takes place within the context of a work environment.  The experience enables students to explore potential career opportunities and enrich their classroom experience.  All internships that are completed through the Career & Professional Development Center automatically fulfill a student's Experiential Learning (ELI) requirement (*this only applies to students who matriculated to Messiah beginning in the fall of 2015). 
What are the Benefits?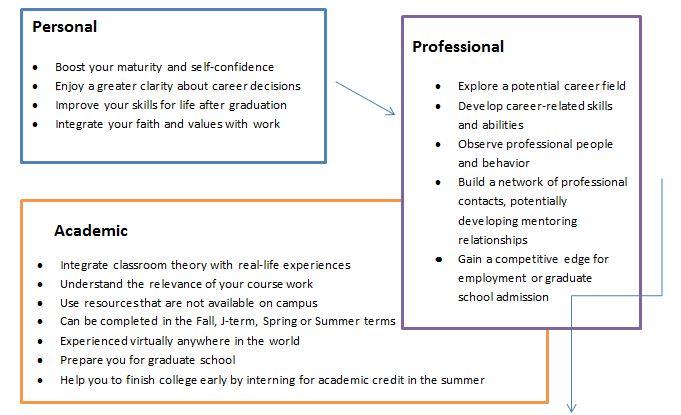 Why Should I do an Internship for Credit?
Many sites require academic accountability so you are required to do the experience for credit
Think about, and develop, personal and professional skills which will help you succeed in your career and lifelong learning
Open doors to graduate school by having an internship recorded on your transcript
Protect yourself legally under the college's liability policy
Process opportunities and challenges through personal interaction with peers and faculty
Develop a Web Portfolio, which highlights your self-directed learning ability - great for job and graduate school interviews!
Internship Faculty Advisor is available to provide you with guidance, direction and help with resolving difficulties.
If you intend for this course to meet a major, minor or concentration requirement, it must be registered for a letter grade.  Final grades of P or F cannot be applied to meet major, minor or concentration requirements.
What are the Academic Credit Options
INTE 391 (Sophomore, Juniors, and Seniors)- Letter Graded or Pass/Fail
Credits
Hours Per Semester
Coursework
1 Credit Hours
40 Hours
One In-Person Class Meeting; regular Online Work in Canvas
2 Credit Hours
80 Hours
One In-Person Class Meeting; regular Online Work in Canvas
3 Credit Hours
120 Hours
One In-Person Class Meeting; regular Online Work in Canvas
INTE 394 (Sophomore, Juniors, and Seniors)- Letter Graded
Credits
Hours Per Semester
Coursework
4 Credit Hours
160 Hours
For all 394 credit hours there will be two in-person class meetings and regular online coursework in CANVAS
5 Credit Hours
200 Hours
6 Credit Hours
240 Hours
7 Credit Hours
280 Hours
8 Credit Hours
320 Hours
9 Credit Hours
360 Hours
10 Credit Hours
400 Hours
11 Credit Hours
440 Hours
12 Credit Hours
480 Hours
**Syllabi can be found in the FAQ
Some organizations have an established internship program. To find the information on these internships on an organizations website, look for sections called: Careers, Human Resources, Internships, or Contacts.
You may choose a company that is new to internships and you may be their first intern.  You may even suggest ways that an intern might benefit them.  The CPDC has a free helpful guide for employers - "Starting and Maintaining and Internship Program".
RESOURCES FOR FINDING AN INTERNSHIP
Family and Friends

Ask them to help you come up with the top 10  organizations in your geographic area
Research tells us that 60 - 80% of jobs are found through personal relationships
Messiah's Career and Professional Development Center Web Resources

Career and Professional Development Center - job and internship base, Handshake
Career and Professional Development Center Job Search Sites - Search List
Internet Search Engines
Internship Specific Search Engines
Websites of Professional Organizations in Your Career Field

example: Association of Electrical Engineers (AEE) or the American Psychological Association (APA)

State Government Internships

Go to the Civil Service Section and look for Internships
Federal Government Internships
Chambers of Commerce

Use Google or another Search Engine
Type in "Chamber of Commerce" for your area of choice. For example "Chamber of Commerce for Richmond, VA"
Follow the link and look for the online directory
Some Chambers will list members by categories such as accountants, engineering, etc
From there, follow the links to the specific organizations websites
Harrisburg Regional Chamber of Commerce (Member Directory)
Harrisburg Regional Chamber of Commerce (Job Postings)
Business Journal for Your Region

Use Google or another Search Engine
Type in "Business Journal" - for example "Business Journal for Minneapolis, Minnesota"
At the link, look for the Business Journal's "Toplist" or Book of Lists" Online
Non-Profit Organizations

Many links are listed on the Messiah.edu/career>jobs>non-profit
Including, Accord Network, Idealist.org, Non-Profit Career Network, OneWorld jobs, etc
Websites of Companies You Have Already Identified

On the site look for links to Career Opportunities or Human Resources
Remember not all organizations keep their websites updated promptly so even if something is not listed or current, you should still inquire about opportunities

Local Resources

Pennsylvania Dept. of Labor & Industry - Job Gateway
Pennsylvania State Civil Service Commission
In the search field type "internship"
Statewide positions
Summer Research Opportunities in the Life Sciences
Washington, DC
Eligibility
To participate in an internship, you must be:
academically proficient with a cumulative GPA of 2.5 or above (*If your GPA is lower than a 2.5 but you would like to be considered, please contact Joy Fea, fea@messiah.edu)
have achieved sophomore status, 24 credits
eager and willing to learn in an experience which combines work and an academic component
enrolled full-time in a degree program at Messiah University
supported by your academic department 
a trustworthy representative of Messiah University to the community
International Students
Students from outside the US may earn academic credit for a work/learning experience, also known as a Curricular Practical Training (CPT). This internship must be for credit to be eligible to work off campus. In addition, international students must not work more than 20 hours a week including any work-study positions. CPTs are not a guaranteed right and an application process must be completed. Each semester of an internship, even it is at the same location requires a new CPT to be filled out. 
Further information regarding any aspect of Immigration and how to request CPT approval can be found here.
International Internships are sites outside of your place of citizenship. 
If you are an international student returning home please see the above tab. All other students please read here.
International Internships must go through an separate approval process. If you have located an international internship you MUST schedule an appointment with Joy Fea to discuss your steps. These internships can take a MINIMUM of 3 months to approve.
There are several parameters that will be required:
You must provide the name of someone our office can regularly have contact who will be supervising you. This person would help you create learning objectives, sign off on your work log, submit a midterm and final evaluation. That is why we need a contact and address.
International Internships are different than internships in the states because they have to go through the approval process of the intercultural office. There is some paperwork and other things that need to be in place before you can be under the auspices of Messiah University overseas.

You will need to complete an Individual Student Request Form, as well as a Partner Organization Approval Form, and Partner Organization Considerations and Criteria form. All three can be found on this website

The same course requirements for a domestic internship will apply. Please see our FAQ for sample syllabi.