Graduate programs extend Messiah's mission
From her home in Texas, hundreds of miles from Grantham, Pennsylvania, Suzanne Dell MA '16 completed a Master of Music in conducting in July. That degree came from Messiah College.
"Getting my master's was always something I had wanted to do," said Dell, a director of the Blue Raider Band for the L.D. Bell High School in Bedford, Texas. "I did not, however, want to leave my job or my home to pursue it as a full-time student. The mix of online and onsite instruction was perfect for my work and family situation."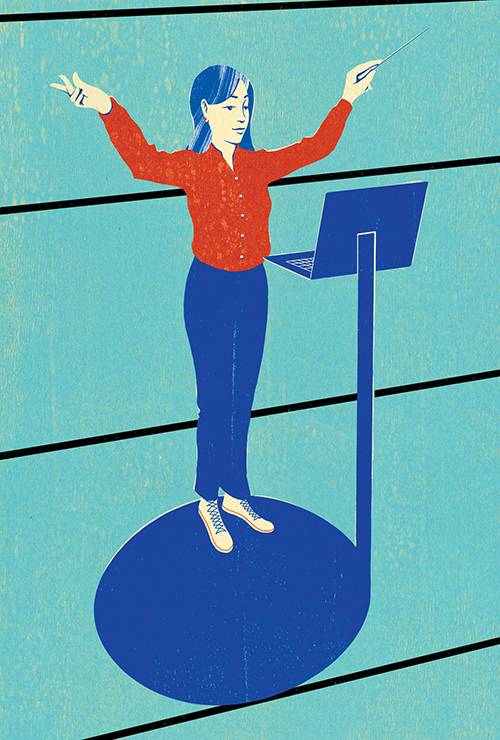 What makes a busy professional seek out a degree program so far from home? The convenience of an online program is certainly a draw, but many colleges and universities offer remote instruction in today's plugged-in society. Why did Dell choose Messiah, specifically?
"We talk a great deal about knowledge, skill and character," said Rob Pepper, dean of the School of Graduate Studies. "Society is looking for people with a strong knowledge base, with strong relevant skills and those of high character. These same threads that shape and mold the undergraduate experience are woven throughout our graduate program, as well."
Extending the mission
Committed to stellar undergraduate academics for more than 100 years, Messiah launched its graduate programs seven years ago through a strategic effort. Supported by the Board of Trustees, the movement was championed by President Kim Phipps and Provost Randy Basinger while also fully vetted through the College's strategic planning and budgeting process. Phipps said it was important for Messiah to expand its curricular offerings to include graduate programs for two key reasons.
"First, our region and the broader world need Messiah graduates in every profession and discipline at every level of leadership. Institutionally, we were ready to fulfill our mission in this new context," said Phipps. "Second, the changing demographics of fewer high school graduates in the Mid-Atlantic compelled us to be innovative and pursue new student audiences."
The tremendous growth of graduate programs has resulted in the formation of its own school—the School of Graduate Studies—that includes more than 600 students; multiple degrees, certificates and program options; the College's first doctoral launch; and even a new facility.
"In creating the School of Graduate Studies," said Pepper, "we adopted a centralized organization model that focuses on graduate programs while preserving the identity of the strong undergraduate programming."
One component of that identity includes the new Winding Hill facility, a 32,000-square-foot space two miles from the main campus. It houses the allied health graduate programs: occupational therapy (OT), physical therapy (PT), counseling and the dietetic internship. The facility offers specialized classroom and lab space, an onsite cafe and many other amenities specifically relevant to graduate students and faculty in these programs.
With the exception of the OT and PT degrees, students conduct the bulk of their studies through Canvas, the College's online learning management system. There are synchronous sessions—where the entire class logs on at the same time—and asynchronous, when students log on at their convenience individually.
"The way we conduct synchronous classes sessions is similar to Facetime or Skype and provides the opportunity for students and faculty to engage in real time, regardless of the distance," said Pepper.
Counseling and conducting
Occupational and physical therapy
Education and higher education
The future
While Messiah continues strengthening its current graduate programming, new programs will be added—with thoughtful deliberation. "We have to discern our strengths and our capacity for the new programs. We have to answer the question, 'Is there a need for this program?'" said Pepper, when discussing the process of adding new programs. "We build off the strength and history and tradition of who Messiah has been and the needs of the world."