An Olympic Competition in Tweeting: Feed Chloe Kim
Do Olympic athletes get hangry? In the middle of watching intense competition, this thought might never come to mind, until now.
17-year-old snowboarder Chloe Kim shared the Olympic experience in a new and refreshingly honest way this winter. While she competed in the highest level of competition for her sport with the weight of representing her country on her shoulders, Kim turned to social media and tweeted out her real thoughts during the games.

Seemingly unaffected by the intensity surrounding her, she communicated with the world by sharing her thoughts about food. Most of us aren't professional athletes, but we can all relate to feeling hungry and craving a sweet treat. Social media sites like Twitter have allowed athletes to momentarily step off their pedestals they've been placed on and communicate in a relatable way.
Food-focused tweets have done more than engage followers, though—they've also caught the attention of a number of businesses. Gaining marketing publicity from tweets has become its own sort of Olympic sport, as companies were quick as snowboarders themselves to jump on Kim's food praises.
After Kim posted her hangry post, Coco Cinnamon—a coffeehouse in North Carolina selling espresso, coffee, drinking chocolate, tea and dessert—jumped on the opportunity by posting a response tweet about churros.
When Chloe won her medal, the company pushed its strategy further by creating a churro ice-cream sandwich in her honor. The sandwich looks like a gold medal and tries to capture that winning spirit created by Kim's victory (The News & Observer).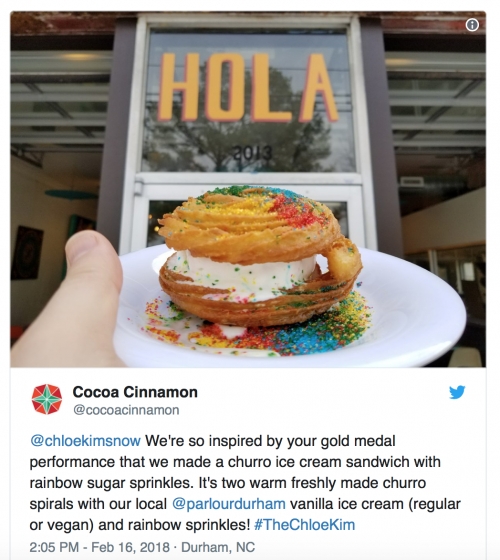 Other companies that joined in responding to Chloe's tweet included Roy Rogers Restaurants, California Pizza Kitchen and Oreo. When Chloe later sent out a tweet about wanting ice cream, the shout-outs continued, including one from Ben & Jerry's. The company's marketing manger Jay Curley explained in describing their approach, "It was pretty straightforward. We pay attention to what people are saying online, and we like to send out ice cream to our fans, whether they're regular folks or celebrities" (The Washington Post).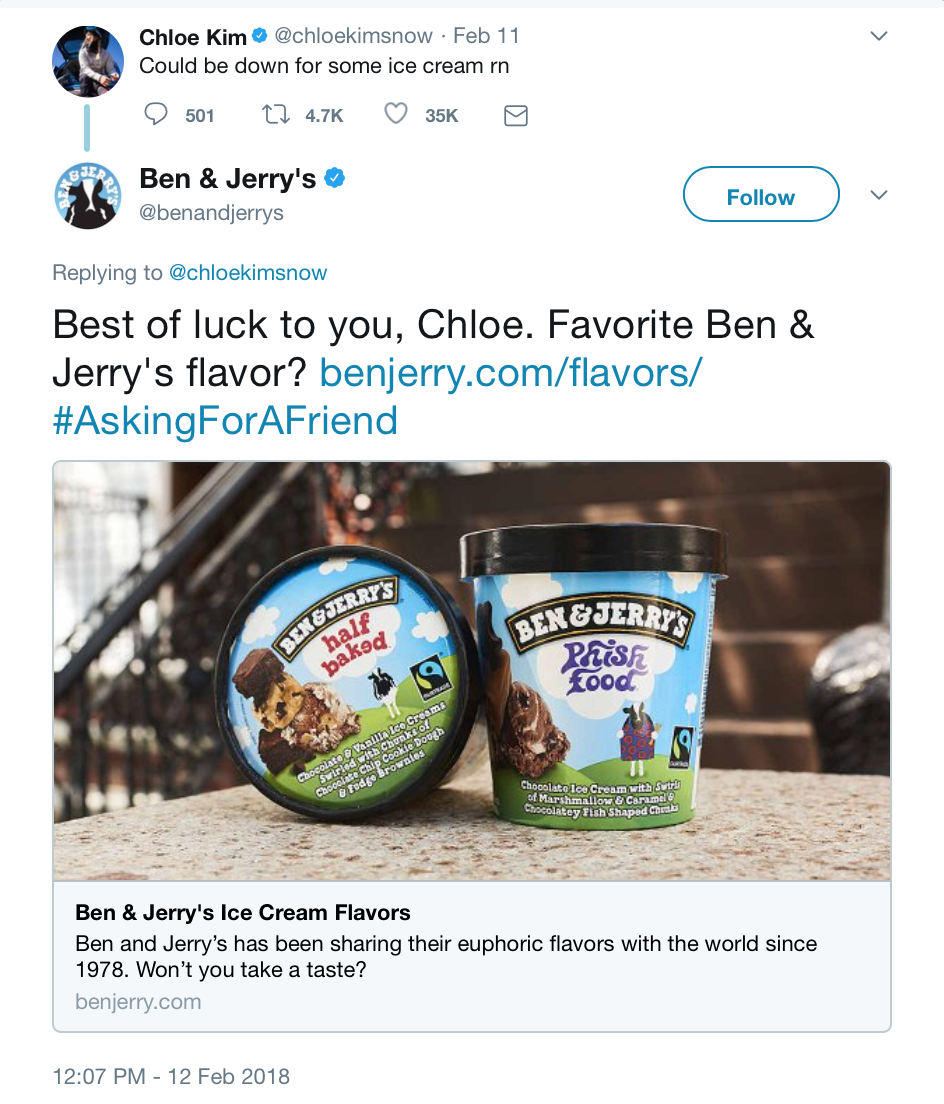 The efforts go beyond tweets too, as companies have been mailing Kim samples of their products to try. Her influence and likability make her a marketer's dream and an ideal sponsor.
As the best in the world at their sports and athletic achievements, Olympic athletes often seem inspiring but not relatable to most of us. Tweets about food obsessions and hanger, however, make athletes like Chloe Kim into a friend and help to unite us all.
- Leah Hagenbuch '18
Jackson, D. (2018). Snowboarder Chloe Kim got hungry and won the gold. This Durham coffee shop had the perfect response. Retrieved from http://www.newsobserver.com/living/food-drink/article201109949.html
Bhattarai, A. (2018). Olympian Chloe Kim sends 'hangry' tweet. Companies rush in with free food. Retrieved from https://www.washingtonpost.com/business/economy/chloe-kims-hangry-tweet-sends-food-sellers-scrambling-to-reply-with-gifts/2018/02/16/48a2a182-1277-11e8-8ea1-c1d91fcec3fe_story.html?utm_term=.112bd0529b08