Our Academic Programs
Our department offers degrees in chemistry and biochemistry. A student can decide to pursue these at one of three levels (B.A., B.S., or B.S. with ACS Certification), depending on his or her future goals. The degrees do not differ until the second or third year of study and changes can be made at any time, upon consultation with an advisor in the department. We recommend that most new students begin in the Bachelor of Science path.
In conjunction with the Department of Education, we also offer a chemistry degree with high school teaching certification.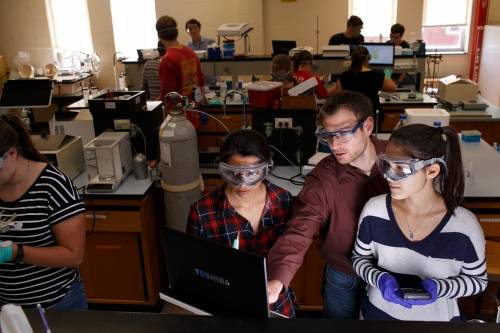 An opportunity for students pursuing a Doctor of Pharmacy degree is the Bachelor's + Pharm.D. Early Assurance Program (EAP) leading to a Doctorate in Pharmacy (Pharm.D.). This program is the result of a collaboration between Messiah University and Lake Erie College of Osteopathic Medicine (LECOM). Students will complete their Bachelors' degree at Messiah University and then proceed to LECOM to obtain their Pharm.D. degree. This early assurance program (EAP) is open to high school students who are accepted to and plan to attend Messiah University and current Messiah University students prior to the start of their junior year.
Majors, Minors and Programs
MAJOR

MINOR

CONCENTRATION

PRE-HEALTH ADVISING

3+ PARTNER PROGRAMS

TEACHING CERTIFICATE

ACCELERATED

EARLY ASSURANCE

UNDERGRAD CERTIFICATE

ADULT DEGREE PROGRAMS

CONCENTRATION

TRACK

PA TEACHING CERTIFICATION

GRADUATE CERTIFICATE

NON-DEGREE

CERTIFICATE IN ADVANCED GRADUATE STUDIES

Loading...