Dual citizen Adela Antal '16 enjoys a worldwide sense of belonging
As many Messiah College students and faculty know firsthand, anyone studying, working or serving internationally has experienced the richness of knowing and embracing a new culture. And there are some Messiah students who live this "worldwide sense of belonging" on a uniquely personal level.
Maintaining dual citizenship in the U.S. and Romania provides this incredible opportunity to Adela Antal '16, who recently participated in the election that made Klaus Iohannis president of Romania, and will vote in her first U.S. election next fall.
On Nov. 16, 2014, Adela and her parents traveled from their home city of York, Pa., to the Romanian Honorary Consulate in Philadelphia, Pa., where Romanian flags, traditional artifacts and walls of Eastern Orthodox iconography made Antal feel as though she was "back in Romania." At the consulate, Antal cast a winning vote for the next Romanian president. "I have the ability to vote for the Romanian president even though I am a permanent resident in the U.S," Antal explains. "It feels good to know that even though I do not live in Romania, I am given the opportunity to take part in something that is so significant."
With her dual citizenship, Antal enjoys the same right in the U.S. She says, "The privilege to vote in the U.S. election means that I matter. Even though I wasn't born in this country, my vote is relevant, and I am so grateful for the opportunity to make my opinion count."
Antal moved to the U.S. from her birthplace of Romania at age 10, after her father struggled for 6 years to gain U.S. citizenship for their family. The desire for a better life with more opportunities, particularly in the realm of education, drove Antal's family to pursue U.S. citizenship. Antal is the first one of her family members to go to college. Her attendance to Messiah College marks her father's dreams for her life coming true. Antal treasures her Messiah College education. She says, "Living in the U.S. provides a great chance to be educated and I cherish that as a gift. It's a gift that many people in the world are not able to receive. An American education is valued more than any other education in the world."
Knowing that she would not have this opportunity if she still lived in Romania gives Antal an extra drive to succeed. "Where my dad came from is a forgotten part of the world. I know what it means to come from hardship. So many people in different parts of the world, like my family, want an American education. I hope other students never forget how privileged they are, and maintain the perspective that they are blessed to be here."
With fulfilled dreams of becoming an American citizen and being a college student in the U.S., Antal's journey has come full circle. This dream-turned-reality gives her rights that allow her to leave her mark on the world in this nation and abroad.

- Katie Johnston '15 and Anna Seip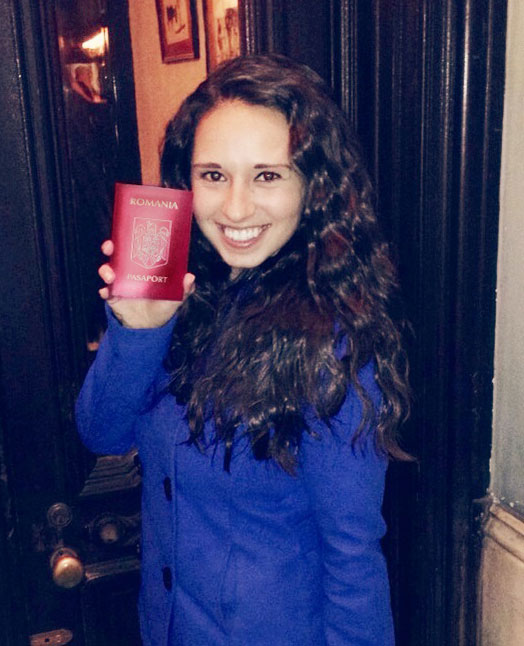 Did you know?
In the fall 2014 semester, Messiah College had 36 students who hold multiple national citizenships.