Engaging and serving the campus and community through education, advocacy, and collaborative work.
Working to create a socially and ecologically just community requires everyone. Engaging the community to care for their surroundings and be mindful of their actions and policies is a necessary step in this process. The Engagement category works with other campus organizations such as the SGA, the Agape Center and Earthkeepers to promote sustainability on and off campus.
Programs & Partnerships
Sustain - A - Fest is a collaboration of multiple student organizations that is held in celebration of our calling to implement and promote environmental stewardship on our campus and beyond.
Some activities in the past included: 
Bread making
Canning Demonstration
Tie Dying
Farmer's Market - produce from Grantham Garden for sale
Free bike repairs
Chem lab displays
Animal displays
Compost bins
Bicycle powered smoothies
Aquaponics
Partners:
Earth Keepers
Agape Center
Outreach
Chemistry Club
Community Garden
Restoration House
The Office of Sustainability
Description: Service Day is designed to help fulfill Messiah College's mission to prepare students "for lives of service, leadership, and reconciliation in church and society." We encourage students and employees alike to participate in service with the local community. Every, the Grantham Community Garden participates as a service site during service day. This day is important in helping the garden prepare for the spring growing season. 
Partners: Agape Center for Service and Learning 
Bike Shop 
The Spoke n True Bike Club services bikes for free throughout the fall and spring semesters. Customers pay market prices for any replacement parts needed, but nothing for labor. 
Messiah Bikeshare: 
The Messiah Bikeshare program is a collaoration between Spoke n True bike club and Messiah's Office of Sustainabiltiy. Bikes are provided as a low cost transportation options for students who want to get around campus or around town. Bike rentals agreements are on a semester basis and cost $15/semester or $10/summer. Costs include all routine maintenance and parts and a lock. 
APPLY HERE for Messiah Bikeshare 
For questions email sustainability@messiah.edu to spokentrue@messiah.edu, or stop by the Office of Sustainabiltiy for more details. 
Partners:
Wilson Sustainability Fellowship program
Purpose
The Wilson Sustainability Fellows program provides students with the opportunity to learn in, and serve with the community at the intersection ecological and social justice.
Students
Our ecological and social systems have proven to be a complex interconnected web of social systems that contribute to ecological health or degradation. Students are decidedly aware of the socio-ecological connections and are looking for opportunities to engage with the community in solutions. The Wilson Fellowship provides students from any academic major with a paid scholarship opportunity to engage with the public in a community based research program designed to assist community organizations address issues with a deep social and ecological connection. In order to qualify and participate in this program a student will be required to:
Maintain a minimum 3.0 GPA
Submit an application and resume outlining their philosophy of sustainability and community engagement
Select a project from a list of approved community organizations
200 total hours of service to community organization (approx. 6 hrs/week over 2 semesters)
Attend a bi-monthly 1 hour seminar with faculty program adviser
Present at department specific school symposium day

The Adrian Wilson Memorial Scholarship was created in 2011 to honor Adrian Wilson after his tragic passing in the summer of 2008.  Adrian was a dear friend to Francis Eans and many other engaged students at the College who demonstrated a passion for ecological sustainability. Adrian and his friends dedicated themselves to the founding of the Grantham Community Garden, and were catalysts for the creation of the Sustainability Office and the Sustainability Studies Major and Minor.  
Tours are available on campus to explore several of Messiah's sustainability efforts.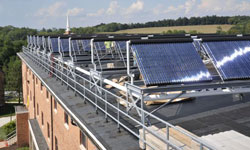 During your tour, you will see the Grantham Community Garden, the Solar Thermal Panels, Rain Gardens, the campus composting program, and more. 
See a Map of Campus Sustainability Programs 
As a part of keeping our local community free of trash and debris, Earth Keepers works to beautify Lisburn Road with bi-annual clean ups. 
Come listen to various speakers talk about issues surrounding climate change! 
Partners:
College Ministries