Messiah University Master of Occupational Therapy facilities
Winding Hill is a newly renovated, state-of-the-art 37,000 square-foot educational center. While you are a student in Messiah's MOT program, you will have the opportunity to complete your course and lab work in a technologically advanced learning environment, custom-designed to your coursework. Messiah also partners with Phoenix Physical Therapy to offer an onsite PT, OT and AT clinic.
Tour the Winding Hill MOT facilities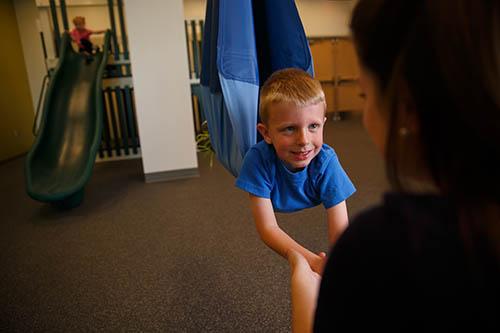 Pediatric lab
Students in the occupational therapy program have the opportunity to hone their pediatric practice skills in a 1,249 square-foot simulation pediatrics clinic. This lab includes two observatory rooms for assessment, demonstration and development of fine motor skills. It also includes a climbing wall, indoor gym, vestibular equipment and other equipment used in pediatric clinics. Students will learn to work with children who have developmental needs.
MOT Pediatric Lab Gallery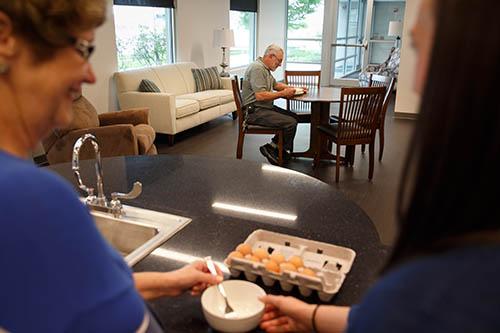 ADL apartment
Winding Hill has a 1,100 square-foot activities of daily living (ADL) laboratory. This full-size apartment with universal design includes fully furnished kitchen, living, bedroom and bath areas. Students will learn how to assess and modify the home environment to enhance function and participation in the activities of daily life.
MOT ADL Gallery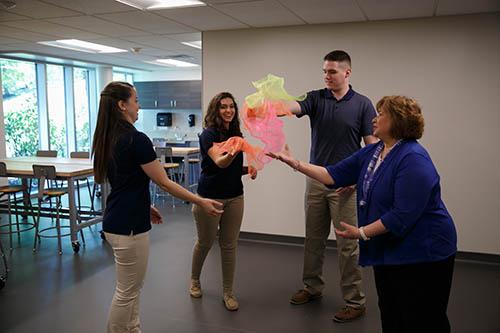 Multipurpose lab
Occupational therapy students in Messiah University's MOT program have available lab space dedicated to occupational analysis, splinting and assistive technology design. In addition, students will learn group facilitation skills to promote the development of motor, cognitive and psychosocial skills.
MOT Multipurpose Lab Gallery
Musculoskeletal lab
MOT students have access to musculoskeletal and modality labs for musculoskeletal examination where they can learn the proper use of physical modalities for therapeutic treatment.
MOT Musculoskeletal Lab Gallery
Cadaver lab
Winding Hill features a fully equipped cadaver lab for the study of human anatomical structures and body systems.
MOT Cadaver Lab Gallery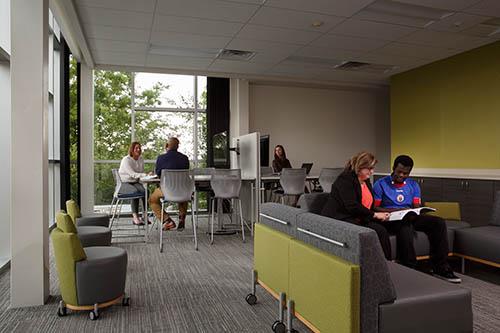 Additional classroom, lab and group study spaces
The MOT program features five versatile classrooms and lecture spaces, including a technology classroom that is fully equipped for video conferences and synchronized virtual learning with OT experts and other students in the U.S. and around the world. In addition, there are two dedicated research labs and a learning commons for research, small-group work and independent study.
Fieldwork sites
Messiah University's MOT program offers you the opportunity to learn and serve at supervised practice sites throughout the greater Central Pennsylvania area and beyond.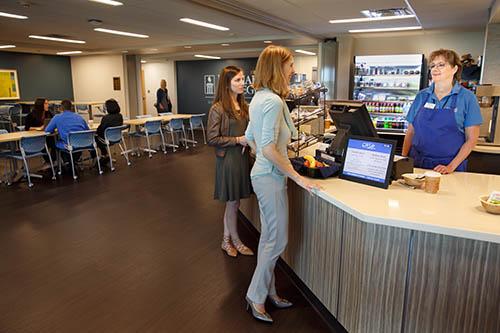 Cafe @ Winding Hill
The Café @ Winding Hill is open weekdays from 7:30 a.m. to 2 p.m., with varying schedules during academic breaks and summer months. The café offers freshly prepared breakfast and lunch entrees, soups, salads, sandwiches and a wide variety of convenience foods and beverages.
Winding Hill Cafe Gallery