Internship and practicums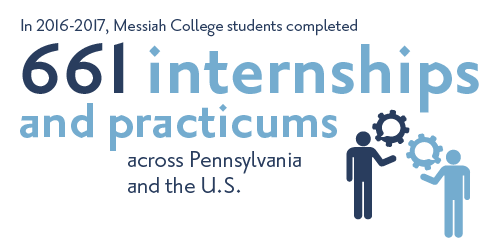 In 2016 and 2017, Messiah University students completed 661 internships and practicums across Pennsylvania and the U.S. collaborating with employers such as:

Comcast SportsNet
PA House of Representatives 
Hershey Entertainment & Resorts
HOPE International
PA Dept. of Conservation and Natural Resources
Penn State Hershey Medical Center
Pennlive/The Patriot News
PricewaterhouseCoopers
Salt 'n Light Youth Ministry
Smithsonian National Air & Space Museum
United Way
World Affairs Council
View the full employer partner list
Messiah University's Internship Program hosts numerous workshops for its employer partners in the region including programs on assessing employee strengths, working with millennials and Generation Z, and hosting on-campus grad fairs and interviews to connect regional hiring managers with Messiah University graduates.
Messiah graduates are held in high regard in our local schools and beyond. Of our most recent grads (Class of 2017), 49 took educator positions in Pennsylvania, 22 took educator positions outside of Pennsylvania, one took a non-education position, two went on to graduate school, and 9 were not reported. Out-of-state educators are teaching in Connecticut, Delaware, Florida, Iowa, Kentucky, Maryland, New Hampshire, New Jersey, Virginia, Vermont, and Honduras. Messiah education teach in public schools, private schools, charter schools, and are employees of intermediate units.
334 Messiah students completed student teaching, internships, pre-student teaching experiences in 2017-18. Messiah works regularly with about 30+ school districts in urban, suburban and rural settings—most within a 45-minute drive of campus, including:
Bermudian Springs

Carlisle

Conewago Valley

Cumberland Valley

Central Dauphin
Derry Township

East Pennsboro

Harrisburg

Mechanicsburg

South Middleton

Dover

Susquenita

West Shore

Gettysburg

Northern York

Lower Dauphin

Camp Hill

Steelton-Highspire

Northeastern

Susquehanna Township

Milton Hershey

Middletown

Big Spring

Upper Adams

West Perry

South Western

Central York

Elizabethtown

Dallastown

Hanover
Every year, every student in Messiah's department of social work completes some type of service learning or field experience. First-year students provide 32 hours of service. Second-year students provide 100 hours of preliminary practice experience. Third year students run groups, do advocacy work and serve the homeless, averaging about 40 hours of service a year. Seniors complete a minimum of 40 hours completing a community project serving at risk populations and complete a senior field placement of 450 hours.
Total hours completed for social work students in 2017-18 = 12,540 hours of service at: regional senior care communities, adoption and foster care agencies, crisis treatment centers, legal aid organizations, children and youth services, mental health services, prisons and correctional centers, hospice agencies, school districts, intermediate units, domestic violence and rape crisis centers and agencies that serve the homeless population.
In 2016-17 Messiah University facilitated 999 clinical placements for its undergraduate nursing students. The three main health systems Messiah uses for its undergraduate nursing clinical placements in the Central Pennsylvania region are:
Geisinger-Holy Spirit
UPMC Pinnacle Health
Hershey Medical Center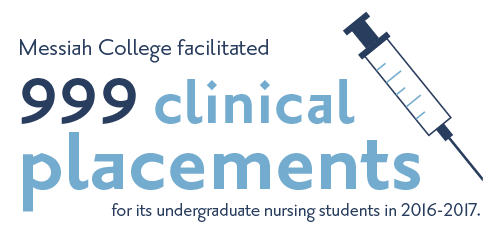 Occupational Therapy:  In 2018 Messiah's Master of Occupational Therapy facilitated 32 clinical placements for students at head start programs, school districts, human services agencies, senior care facilities, rehab/therapy centers and hospitals across the state of Pennsylvania.
Graduate program in nursing:  Messiah has placed 67 number of graduate nursing students at 46 clinlical sites in Pennsylvania over the past four years.