Gifts for Your Student card selections for the '21-'22 Academic Year
**New** Gluten-Free Gift for Your Student card redeemable at the Union Café!
All gift cards are sent via campus mail and will expire on Friday, May 6, 2022.
Please allow up to two (2) business days for receipt.
**Please click on the item to be connected to the Order Form.**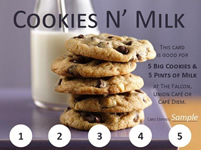 Cookies 'N Milk
$16.00
A prepaid gift card for your student to enjoy this time-proven comfort. It's the next best thing to home-baked. Card is good for five big cookies and five pints of milk at either the Union Café or The Falcon.
Buy This Product