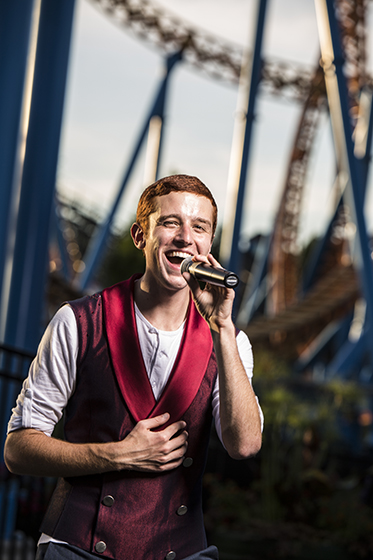 Joel Bauman '15

Hersheypark entertainer, third place finisher in national vocal competition

Joel Bauman '15 went to Hersheypark every day this summer. But, he wasn't riding roller coasters; he was entertaining crowds with five shows a day, six days a week as a member of the male acapella group, Choc-a-Fellas.
Bauman, a music education major, underwent a rigorous process to land the gig, auditioning with several prepared pieces for a casting director then performing impromptu pop songs and going through ear training exercises. "This wasn't a typical audition," he said. "Casting an acapella group is extremely challenging and requires a higher level of musicianship from performers in their abilities to sing harmonies and sing in a wide vocal range to cover various parts."
Bauman is an experienced vocalist. He recently placed third among more than 75 other students from the U.S. and Canada in the collegiate/university voices category in a Hal Leonard vocal competition.
With the help of Elaine Henderson, director of vocal studies in Messiah's music department, Bauman chose to sing "Everybody Says Don't" from the Stephen Sondheim musical "Anyone Can Whistle"and a ballad from the Broadway musical "Newsies." For the competition, he uploaded his renditions to YouTube, where his performance was judged by a qualified panel based on voice quality, diction, presentation and performing personality.
"It was both humbling and affirming to be recognized next to such fantastic talent," said Bauman of his third place finish.
Henderson says recognition from the Hal Leonard Corporation, the world's largest music print publisher, is no small feat. "To place in their competition represents a national level of recognition of talent and skill," she said.
"Joel is one of the most motivated and career goal-driven students I have taught," continued Henderson. "He is always checking out online opportunities for auditions and competitions. I have learned a lot about that world by following his progress and working with him on his audition material."
As he looks ahead to the future, Bauman plans to pursue musical theatre while teaching. "Eventually, I'd like to use my music education degree to teach music in an urban school setting," he said.
-Rose Talbot '16