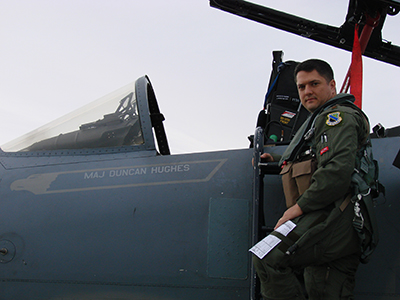 Duncan Hughes '92
Flight surgeon now works for Pentagon, providing pilot care and policy
What do you want to be when you grow up? A doctor? An aviator? A chief of operations? Dr. Duncan G. Hughes '92 excels at all three. After years as a flight surgeon, he now works as the chief of aerospace medicine policy and operations for the Air Force Surgeon General in Washington, D.C. Not content to spend too much time behind a desk, however, he makes sure to get out of the office and into a jet as much as he can.
"I escape from the Pentagon once a week," said Hughes, "to keep a hand in patient care and fly with local units."
After graduating from Messiah with a bachelor's in biology, he joined the Air Force and attended medical school at the Uniformed Services University of the Health Sciences in Bethesda, Md. For the past 19 years, he has worked as a physician/flight surgeon in the Air Force, providing patient care for F-15 squadrons, which are comprised of approximately 60 pilots and their families.
Fostering a relationship between a flight surgeon and a pilot is a preventive measure that is key to the success of the squadron and, ultimately, the Air Force as a whole. "Pilots don't want to come see a doctor unless they know you've got their best interest in mind," explained Hughes. "[As flight surgeons,] we fly with them regularly and get to know them really well and develop a rapport. It's a special niche of occupational medicine."
Hughes' training as both an aviator and a doctor is essential to caring for a squadron. "If an F-15 pilot blows out his Achilles tendon, how do you make a determination of when he's safe to go back in the jet?" asked Hughes. "[A non-flying physician] doesn't know the strength or the range of motion required to safely operate the controls. You have to be intimately familiar with what the pilots' functional performance requirements are inside the cockpit in order to make the right medical decision."
His patients—who have graduated in the top one percent of their class—make a concerted effort to stay fit. "They tend to be the healthiest people," explained Hughes. "If they don't stay fit, they can lose their wings, so they're highly motivated to stay that way."
He said Messiah College—and particularly Professor of Christian Ministry and Spirituality Jay McDermond, Professor of Biology Gary Emberger and Professor Emeritus of Psychology Richard Stevick— challenged him as a student and directly contributed to his career success.
"As a naïve high school student, I heard Messiah had a 99 percent success rate of getting into medical school on the first try," he said. "What I didn't realize was, there are hurdles along the way. If you don't meet those, you don't stay pre-med. I was very well prepared [by Messiah] for med school and for life in general."
—Anna Seip