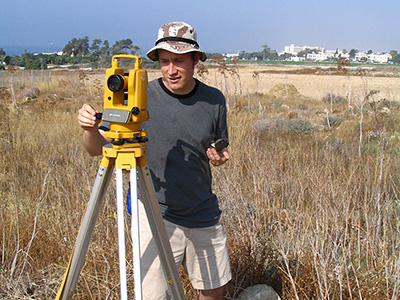 David Pettegrew
From leading archaeological digs in Cyprus, to digital mapping projects in Harrisburg, history professor works to uncover local histories.
On any given day, you can find Associate Professor of History David Pettegrew teaching classes in Latin, Western Civilization, Roman History, Late Antiquity and more. While these are all a major part of Pettegrew's job and the primary basis of his research, he also spends much of his time outside the classroom. He uses his expertise in archaeology and data collection to lead historical discovery projects on opposite sides of the world: one in the country of Cyprus, and one in the city of Harrisburg.
In Cyprus, Pettegrew serves as co-director of the Pyla-Koutsopetria Archaeological Project. He and fellow archaeologists work with students from several colleges to explore and investigate Hellenistic and late Roman coastal sites. They do everything from surveying, to excavating, to documenting remains visible on the surface. For Messiah students, this experience comes in the form of a May-term cross-cultural trip that Pettegrew leads each year.
In Harrisburg, Pettegrew directs the Digital Harrisburg Initiative in collaboration with Albert Sarvis from Harrisburg University of Science and Technology and other faculty and students from Messiah. The project focuses on using geographic information systems and databases to capture the City Beautiful Movement and changing population of Harrisburg, Pennsylvania in the early 20th century. So far, students and professors from both schools have created a digital archive that connects the residents of the city recorded in the 1900 census to a digitized map of the houses where they lived. As it continues to grow, they hope to connect more resident data to maps and continue unearthing the capital city's rich past.
Pettegrew's transformative teaching style marks just one of the ways the Department of History at Messiah College is working to create a new kind of history student—one who has the skill sets and knowledge that prepares him or her for many different professional opportunities. Like Pettegrew, each professor brings a specific expertise to the classroom, as well as a strong dedication to students.
As Pettegrew continues with both of these projects, he realizes the important opportunity his own research ultimately brings to his students. "Through these programs, students are producing original knowledge through research," says Pettegrew. "They aren't just studying the facts, they get to create them."
As Pettegrew and his students unearth the past, their discoveries continue to connect new generations to their local histories.
-Erin Bray '10