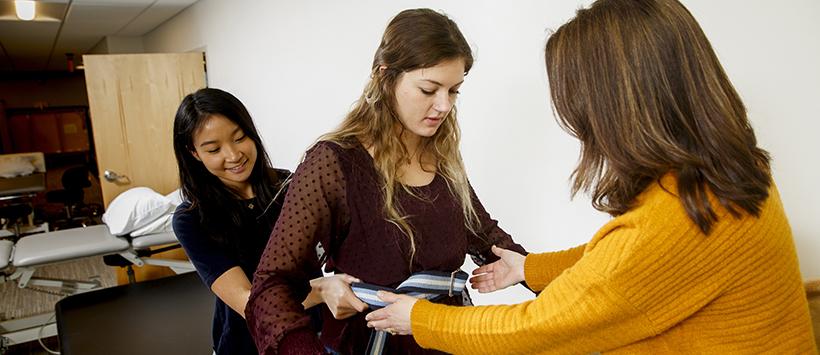 Frequently asked questions about the occupational therapy program
The Messiah University entry-level occupational therapy master's degree program is accredited by the Accreditation Council for Occupational Therapy Education (ACOTE) of the American Occupational Therapy Association (AOTA), located at 6116 Executive Boulevard, Suite 200, North Bethesda, MD 20852-4929. Phone: 301-652-AOTA (301-652-2682). www.acoteonline.org
Graduates of Messiah University's MOT program are eligible to sit for the national certification examination for the occupational therapist administered by the National Board for Certification in Occupational Therapy (NBCOT). After successful completion of this exam, the graduate will be an Occupational Therapist, Registered (OTR).
In addition, all states require licensure in order to practice; however, state licenses are usually based on the results of the NBCOT Certification Examination. Note that a felony conviction may affect a graduate's ability to sit for the NBCOT certification examination or attain state licensure.
Messiah University is accredited by the Middle States Commission on Higher Education. It is the highest accrediting authority recognized by the U.S. Department of Education for degree-granting colleges and universities located in Pennsylvania, Delaware, the District of Columbia, Maryland, New Jersey, New York, Puerto Rico, the U.S. Virgin Islands and several other locations internationally.
Students who wish to apply for admission to the MOT program at Messiah College should submit an application and all required admission materials directly to the Occupational Therapy Centralized Application Service (OTCAS). All required documents must be verified by OTCAS before an application will be reviewed. Verified applications will be reviewed and select students will be invited to campus to interview during the fall to complete the application process.
Applications for admission, for the next cohort (Starting in Summer 2022), will be accepted beginning in July when OTCAS starts taking applications for the next cycle. Due to the competitive nature of the admission process, applications should be completed and verified by OTCAS prior to our November 1st priority deadline. All admission requirements will be sent directly to OTCAS. Please note that the OTCAS verification process may take up to 4-6 weeks, so students are encouraged to submit all necessary materials well in advance of the deadline. Applications that are verified after Nov. 1st will be considered on a rolling basis provided space in the program is available.
Admissions decisions will be communicated to applicants who have completed an interview beginning in November of each year. Admitted students who wish to confirm their place in the program will be asked to submit a $500 non-refundable deposit. Deposits will be accepted until the incoming class is full. Each year, Messiah's MOT program maintains a waitlist of qualified, interested students who may be selected if a spot in the program becomes available. Please note that the selection process is competitive; not all eligible candidates will receive an offer of admission.
The minimum GPA is a 3.0 on a 4.0 scale.
Official GRE scores will not be required for the 21/22 admissions cycle.
Observation hours are encouraged, but will not be an admission requirement for the 21/22 admissions cycle. Please review this video from AOTA.
Fieldwork sites are arranged for students by the academic fieldwork coordinator. Opportunities to complete fieldwork are local, regional, and potentially out of state. Students are responsible for providing their own transportation and housing for fieldwork sites. 
Common options for completing observation hours include nursing homes, rehabilitation centers, hospitals, outpatient therapy centers, or school districts.
Yes, three recommendations are required, ideally one from an OT, but an OT recommendation will not be a requirement for the 21/22 admissions cycle.
Please note, that students must earn a "C" or better from an accredited program in all prerequisite courses for acceptance into the MOT Program.
Prerequisite courses
Life Sciences - 6-8 credits from the following two courses:
Anatomy and Physiology I with Lab -- 3 or 4 credits
Anatomy and Physiology II with Lab – 3 or 4 credits
Psychology - 6 credits from the following two courses:
Abnormal Psychology – 3 credits
Life Span Development or Developmental Psychology - 3 credits
(Life Span Development can be substituted by taking these three courses:  Child Development; Adolescent Development; Adult Development – 9 credits)
Statistics (Mathematics, Sociology or Psychology Department) - 3 credits
Statistics
Health - 1 to 3 credits from the following:
Medical Terminology
Additional courses recommended but not required:
Kinesiology
Neuroscience
Physics
Contemporary Issues in Health or Community Health or equivalent
Research Methods or Advance Research Methods
Please note: Documentation of community service, leadership experiences, honors and work experience is required. Please extensively document these areas in the "Experiences" and "Achievements" section under "Supporting Information" within your OTCAS application. Please enter your leadership experience in the "Experiences" section and select "Leadership Experience" as the type of experience.
All prerequisites must have been completed within the previous 10 years.
No. All prerequisites must be completed prior to enrolling in the MOT program.
Students can have up to 3 pre-requisite courses "in process" while applying. If you are accepted into the program while currently enrolled in one of the required prerequisites courses, you will be provisionally acceptance. The provisional acceptance will be changed to full acceptance once transcripts are received, confirming successful completion of any outstanding pre-requisite course with a grade of C or better and an overall cumulative GPA of 3.0 or better.
Yes. All prerequisite courses must have been successfully completed with a C or better. For the 21/22 admission cycle, prerequisites can be completed as a pass/fail course. "Pass" needs to be earned to meet the requirement.
AP course credit will count for prerequisite credit if it appears on a transcript for the pre-requisite course, however the course will not be considered in the GPA calculation. AP credits will not be accepted in lieu of a letter grade in courses requiring a lab.
Consistent with OTCAS' procedures, grades in any repeated courses will be averaged. Cumulative undergraduate total GPA scores as calculated by OTCAS will be used by Messiah as your official GPA.
We aim to have 32 students for each cohort.
We only have one MOT cohort start per year. 
Each year, Messiah students accepted through the Accelerated program or the Early Assurance Program may be entering the upcoming cohort.
Currently, the educational requirement for entry into the occupational therapy profession is a master's degree.
The educational facility is located at 401 Winding Hill Rd., Mechanicsburg, Pennsylvania 17055, a short, four-minute drive from the main campus. Messiah College at Winding Hill offers a state-of-the-art, 37,000-square-foot educational facility features an apartment with universal design for activities of daily living (ADL), a fully equipped lab that simulates a pediatric clinic with sensory integration equipment, a climbing wall, indoor play gym and other therapeutic equipment. 
View a video tour of the MOT facilities at Winding Hill.
MOT graduate students are responsible for finding off-campus housing. Students typically live within 20 min or less of the Winding Hill Educational Facility. Each year some students in our cohort decide to share housing options. Learn more about graduate-student housing.