D. Ray Hostetter
(President, 1964-1994)
Messiah's sixth president was certainly no stranger to Messiah culture prior to his presidency.
D. Ray Hostetter came from a long line of dedicated Messiah faculty and administrators. His grandfather and father both served as presidents, and his mother was both a student and teacher at the College.
Hostetter caught Messiah fever early, attending the school as a boy. After graduation, he continued his education, receiving a B.A. in history from Greenville College in Illinois and a M.A. from Pennsylvania State University.
After obtaining his master's degree, Hostetter began his journey as an authoritative figure in higher education at Tabor College in Kansas, teaching and coaching athletic teams.
He eventually left Tabor and returned to Messiah. In the years before serving as president, he taught history and physical education classes. Some years later, Hostetter became the director of development. He then took the presidential position in 1964.
His presidency would come to mark a time of great growth and progress for Messiah College.
In 1965, he returned to school and earned a doctorate in higher education administration from Columbia University in New York. During his studies, the wheels in his mind turned as he envisioned the great potential Messiah could reach.
As a man who would not settle for mediocrity, Hostetter strived for excellence in all areas. This mind set acted as a platform from which the College leaped into a period of unprecedented success.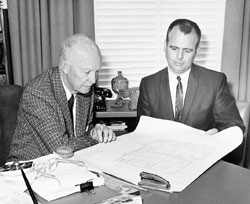 D. Ray Hostetter and President Dwight D. Eisenhower review plans for the Eisenhower Campus Center.
The developments Hostetter carried out were numerous. Among those were the following:
Initiated additional scholastic programs that integrated faith and learning

Skyrocketed enrollment numbers

Dramatically increased the number of faculty members and further improved their salaries

Boosted financial resources, enabling administration to fund a variety of projects

Erected many new facilities:

Hess Dormitory (1966)

Sollenberger Residence (1968)

Kline Hall of Science (1969)

Eisenhower Campus Center (1972)

Miller Dormitory (1973)

Climenhaga Fine Arts Center (1981)

Sollenberger Sports Center (1985)

Fry Apartments (1991)

Added professional counseling and career services

Expanded assets by extending Messiah's land to over 300 acres

Organized the merger between Messiah and Upland (formerly Beulah) College, which brought additional financial assistance and support from the California Brethren in Christ churches

This merger made Messiah the only institution of higher education of the Brethren in Christ tradition.

Recognized the importance of public relations and employed experts and professionals to better publicize the college and promote a positive image

Helped to gain Messiah's complete regional accreditation

Worked to form a partnership with Temple University

As a result, Messiah's Philadelphia Campus opened in 1968

This was the first cooperation of its kind between a private religious college and a public institution in the United States.

Formulated a covenantal relationship with the Brethren in Christ Church, rather than a legal one

Entered an educational partnership with Daystar Institute located in Nairobi, Kenya

Enhanced Messiah's athletic program adding baseball, wrestling, field hockey, women's basketball, volleyball, and co-ed track teams to the sports roster

Implemented January Term (known as J-Term), an intensive three-week portion of the spring semester.
Clearly, Hostetter was a busy man implementing many improvements that put Messiah on the map in a distinct manner.
During his presidency, Hostetter was not the only innovative person creating a unique imprint on the fabric of Messiah College history. His dedication to excellence and the Christian faith seemed to have an impact on the faculty and students as well. As a result, many other advancements occurred on campus throughout Hostetter's 30-year reign. To name a few:
Students form the Inner City Committee

The committee was designed to engage in Harrisburg ministry. The goal was to share Christ and His love.

This was accomplished via a variety of outlets including donating blood to hemophiliacs, building houses for the homeless, and working with ex-convicts

Special Olympics are added to Messiah's service agenda

Cable television is installed on campus

Spring break trips are formulated and successfully carried out

WVMM (the Messiah radio station) is created and officially begins its broadcast
It goes without saying that Messiah would be a very different institution without the commitment and enthusiasm of President D. Ray Hostetter. His influence on this community is a long-lasting testament to shared faith, bold vision, and the enduring promise that captures the essence of Messiah College.
President D. Ray Hostetter passed away on February 12, 2016. You can read more about his presidency and legacy on his memorial page.
What was happening in the world during D. Ray Hostetter's presidency?
To prevent the spread of communism in South Vietnam, the U.S. entered the Vietnam War.

The Green Bay Packers and the Kansas City Chiefs duked it out in the first Super Bowl in 1966. Green Bay came out on top.

Percy Spencer invented the microwave oven after realizing that the microwaves from his radar melted a peanut chocolate bar in his pocket. The first item to be tested in a microwave? Popcorn!

Martin Luther King, Jr. and Robert F. Kennedy were assassinated in 1968.

Afros, digital watches, pet rocks, hacky sacks, and Rubik's Cubes became staples of the time.

"One small step for man, one giant leap for mankind!" Neil Armstrong takes the first stroll on the moon in 1969.

The first New York City Marathon took place in 1970 on a $1,000 budget. Fifty-five participants completed the race.

The Watergate scandal, which eventually led to Richard Nixon's resignation from the presidential office, occurred in 1972.

Oil prices skyrocketed and launched a national energy crisis.

Thirteen million units of radioactive gases spilled out into the atmosphere as a result of the Three Mile Island accident. Just six years later, a nuclear reactor accident caused the greatest nuclear power accident in history at Chernobyl.

The first personal computer (PC) was introduced.

The first AIDS case was reported.
The Challenger space shuttle exploded in 1986, resulting in the deaths of its seven crew members.