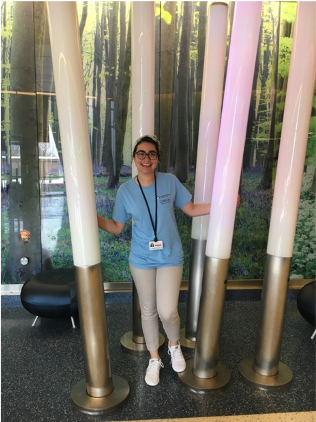 Interested in Child Life?
Child Life supports children and families in stressful or traumatic situations to help them cope with illness, injury, disability, and hospitalization. Certified Child Life Specialists are educated and clinically trained to engage in play therapy with children, mentally and psychologically prepare children and their families for procedures, and help the family system deal with feelings of fear and anxiety. Child Life Specialists work alongside doctors, nurses, and social workers to keep life as normal as possible for the child and the family.
A Human Development & Family Science degree with a focus on Child Life equips you with a strong background in child development and family organization to excel in your pursuit to work with children and families in healthcare and community settings. At the end of the program, you will be prepared to compete for placement in Child Life Internships and pursue your certification through the Association of Child Life Professionals (ACLP).
Required Coursework:
HDFS 361 Intro. To Child Life
HDFS 362 Child Life Field Experience
HDFS 210 Child Development
HDFS 311 Adolescent Development
HDFS 339 Dynamics of Family
Interaction
HDFS 320 Play and Development
HDFS 210 Death, Grief, and Caring
HDFS 272 Intro to Social Research
BIO 185 Anatomy & Physiology
HDFS 386 Family Ethnicity & Human Services
ATED 203 Medical Terminology