Residence life at Messiah College
Living on your own for the first time is one of the biggest adjustments when starting college, and we're here to help make that transition as easy and as fun as possible!
Where you'll live
It begins when you get to campus on Move-In Day. First-year and transfer students are specifically assigned to live in dedicated first-year residence halls. This experience helps support learning opportunities that reach beyond the traditional classroom. By living with students in your same year, you intentionally start in an environment that helps you form lasting relationships with peers who are experiencing the same things you are.
Each of the halls separate gender by floors that require card access to enter them. Every residence hall has common space, laundry facilities and security card-swipe locks.
If you're ready to expand your living space after your sophomore year, you have the option to apply for a campus apartment. Four apartment-style buildings feature one- or two-bedroom living spaces that have their own bathroom, kitchen and living room. There is also special interest housing available just off campus if you're looking to live and learn around a common theme, such as social justice, sustainability or reconciliation.
Life on campus
Residence life is much more than actual housing though. We know your living space is where you'll make many connections between faith, learning and living. Your RD (residence director) and the student RAs (residence assistants) work hard to host events, activities and intentional times to get to know you and to help you get to know other students to help foster a sense of community and hospitality. Your residence hall or apartment is not just where you live, but also a place where you'll grow and make lasting friendships.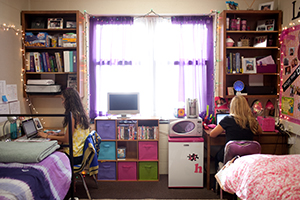 Visit the Residence Life website
Find out more info about housing options, upcoming events, staff, and policies.
Visit site
Information on Residence Life