Departmental Honors Projects
This is an independent research program for students who have a strong academic record for four previous semesters of college study. Overall GPA of 3.5 and departmental approval are required for enrollment. Students in the Messiah University Honors Program can complete their required Honor's Projects by completing a departmental honors project. Examples of past projects as well as the complete Honors Projects Policy Guidelines are available by clicking here. In the meantime, talk to any HDFS faculty member about your interest in this project.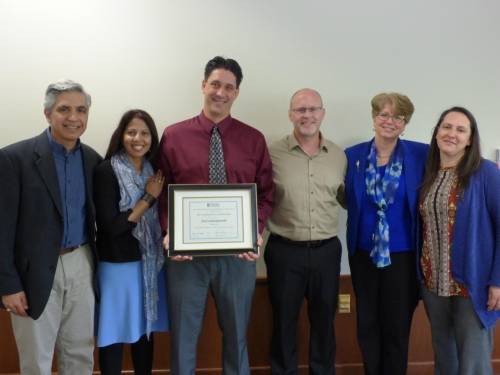 A National Award given annually to recognize outstanding student leaders who enhance the positive image of American youth through their contributions to community and school. Specifically, students are nominated for their scholastic and academic performance, their character and faith, and their leadership, service and reconciliation commitments. All nominations are made by the faculty within the department of the student's major.
Dr. Dorothy J. Gish Women in Leadership Award
A monetary award given to full-time female students at Messiah University who aspire to develop their gifts and advance in leadership roles. For more information, see the Gish Award webpage.
Student Poster Awards (Conferences)
Our students frequently have opportunities to display research or theoretical papers they have prepared in a poster format at various conferences. Typically, independent judges will assess the posters and present monetary awards, certificates and/or ribbons for the top posters.
HDFS Student Professional Development Endowment Fund
In 2007, the Department of Human Development & Family Science established the Human Development & Family Science Student Professional Development Endowment Fund. The Department has established the fund for the purpose of providing students with opportunities for professional growth and development. Ideally, small grants from this fund would enable students to attend professional conferences, become student members of their professional organizations, conduct research with faculty, co-present papers with faculty at research meetings, conduct surveys necessary for senior honors projects, and so much more. The possibilities are endless. For more information, see the HDFS Endowment page. For the Endowment Fund application click here
HDFS Department Outstanding Alumni Award
In 2012, the Department of Human Development and Family Science presented its first Outstanding Alumni Award. For more information on award winners and how to nominate, click here.
Outstanding Student Awards (Graduating Seniors Only)
Two separate awards are given each year to graduating seniors who have displayed exemplary academic, service, and leadership abilities. The awards are voted on by the HDFS faculty and are presented to the students at the annual HDFS Senior Banquet.