Incoming students
Welcome to Messiah University!
Move-in Details:
New & Transfer students are following deignated guidelines via email to arrive on campus safely and enjoy Orientation at Messiah University.
Move in Guide - some basic information about your room and the details you'll want to know about living on-campus.
Local Shopping - this is a handy guide of local restaurants and stores in you get here and find that there are still a few things you need for your room.
FAQs - this gives you more specifics about common questions incoming students have.
Directions about the housing process
If you will be a new student at Messiah University here is a brief explanation about how the housing process works.
You will be able to sign up for housing through The Nest (early March for fall start students and early November for spring start students). The deposit is required before you can sign up to live on campus.
The Nest will allow you to sign your housing contract anytime after March 1. After you have signed your contract you will be given the option of filling out your housing questionnaire, which asks about what type of room you would like, if you have a person in mind to be your roommate, when you go to bed and get up, how neat you are, when you study and what type of music you like. This will help us match you with a roommate.
After you have filled out your preferences you have done everything you need to do for your housing. You will receive a mass email to your Messiah email account (in July for fall start students and in December or January for spring start students) from Housing or Residence Life. That email will direct you to check The Nest where you will be able to click on 'My Room' and 'My Roommates'.
A couple things you should know

a. You cannot request a specific hall to live in on the form.

b. We use your preferences to match you with a roommate and we will try to get you into the room type you request, but we cannot guarantee that we'll grant every request..

c. Supplemental triple rooms are double rooms that have furniture for three people in them. They have three of everything except for bookshelves and closets. You can choose to be in a supplemental triple room or you may be placed into a supplemental triple room based on your deposit date. The last two years those who paid their deposit after April 1 were placed into a supplemental triple room. For more information about supplemental triples please check out the supplemental triple webpage.
Please contact the Office of Residence Life & Housing at 717-796-5239 for further assistance.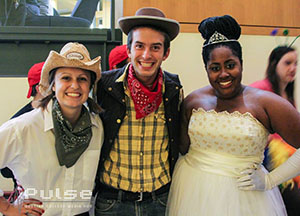 First-Year Experience
Learn about Messiah University's first-year experience programming and opportunities!
Read more